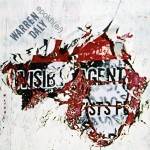 Warren Daly has just released his first EP on Invisible Agent, which I'm proud to say I've mixed and mastered. Not only that, I've finally gotten a track finished and it appears on the EP – it's a remix of "Praha" – the first track on the album.
For one day only the whole EP is available on Juno Download for only 99p – which is a great deal.
You can get it here: http://www.junodownload.com/artists/Warren+Daly/releases/
It's also available on iTunes and eMusic.
Check it out!
Other Spectacular Shows!