Wow. If you know me and my steady increase in the number of screens with which I surround myself, you'll understand my nerd-ish delight at seeing such a thing as displayed below.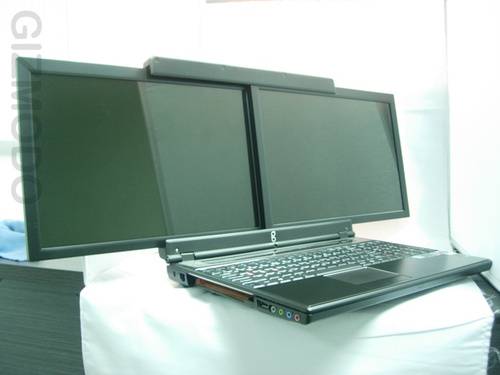 This is one of the first photos of an actual gScreen's dual 15.4-inch screen Spacebook—two full screens (not just an extra 10-inch one like Lenovo's W700. Really. There were renders before, but here are the photos.

The Alaska based company, started by Gordon Stewart (yep, that is where the G in gScreen comes from), is aiming its dual screen laptops at professional designers, filmmakers, photographers and really anyone who can't live without a dual screen for everyday productivity. They have also been in talks with the military. The chassis (which we expect is at least 12 pounds) is built around the 15.4 inch screen (though the first units that come to market will have 16-inch or 17-inch screens) and its twin, identically sized screen slides out from behind the first using a uniquely designed sliding mechanism.
via GScreen's Dual-Screen Spacebook Coming Soon(ish) – Gizmodo.
I'm sure it's insanely heavy, and sounds like it will command a similarly weighty price tag, but it would be incredible to have that sort of 'portable' screen res. Imagine working on music projects on the move with that machine!
Other Spectacular Shows!