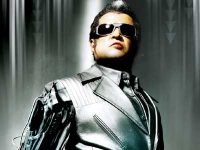 Could Robot, a.k.a. Endhiran, be even better (in an unusual sense of the word) than Mega Shark vs Giant Octopus? Probably.
It's got robots, lots and lots of robots; it's got robots doing transformerish things such as merging to form a giant snake that eats cars; robots forming a huge robot that punts a car through the air; robots forming into a giant sphere with machine guns poking out of it and flattening police whilst shooting them. I wonder is this the sort of thing that American military commanders dream about at night?
Anyway, the important thing is that they even get a Wilhelm Scream in there, which always wins my approval.
I do have a feeling all the best bits have been put in this 9 minute cut..
http://www.youtube.com/watch?v=svOlz2ei4Yk
The film appears to be a hit in India:
I just came out from seeing the first day first show….Endhiran at Kasi theater in chennai. The movie started early morning at 4:30. Never seen a huge crowd like this ever before in chennai for a movie, that too early before even sunrise. The movie is 100% adrenalin rush action with Rajini's and Aiswarya's stunning performance. The graphic sequences are awesome. Its very difficult to distinguish graphics from reality. Last 1hr of the movie reminds us of 'the matrix'. The songs are picturised in a spectacular way. The movie is a super-hit in all possible angles. See it before others do. I mean to say watch it to believe my words.
Other Spectacular Shows!