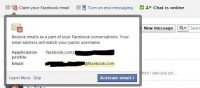 Is this something completely new, or was it rolled out a while back and I just missed it?
Facebook just offered me an 'email' account ([email protected]). Whilst I can't see any clear way to actually access through conventional POP/IMAP protocols, it still looks like an interesting development.
If you sign into Facebook and go to your messages, you'll get a walk through activation of the system. The new system includes history for your chat conversations.
I won't be abandoning my normal channels obviously. In fact, if you really want to email me – you're better off sending me an email directly to my gmail account. I filter notifications from Facebook so that I don't get distracted. I check these filtered notifications periodically, depending on my mood.
Other Spectacular Shows!