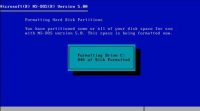 New versions of Microsoft Windows come along every once in a while and some people choose to 'upgrade' their old version to the new one. The idea being that Windows keeps all your installed applications and settings and you can just kick off from where you left off, just in an updated OS.
Personally whenever a new version of Windows launches I go for a clean install as I view it as an opportunity to tidy everything up a bit and completely get rid of programmes which I installed as a test but no longer need.
However I did find the below video very interesting, purely from a nerd perspective. If you're not a computer geek you probably won't find this 9 minute video very engaging 😉
Other Spectacular Shows!