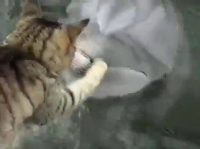 I'm not really sure if cats were ever really meant to encounter dolphins, and whilst it's possible that the cat has an inkling that he's faced with a very large delicious meal, he might also just be thoroughly enjoying the sensation of rubbing his head off the dolphin.
I've never eaten nor rubbed up against a dolphin so I can't vouch for the appeal of either.
http://www.youtube.com/watch?v=6VvFUblt6Cw
This was the purpose of the internet as envisioned by Tim Berners-Lee right? Me easily sharing weird videos taken by people I've never met from somewhere I've never been. Right?
Other Spectacular Shows!