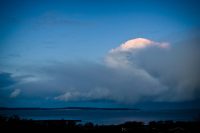 Usually I don't pay too much attention to the beginning of a new year, life being a series of moments which we have delineated and compartmentalised with our current calendar system. Of course it has a natural delineation, and makes a certain amount of sense in following seasonal changes. Or at least it makes more sense when living at 55+ longitude, and the daylight changes are more apparent. Seasonally our Gregorian calendar made less sense to me in Cambodia where the seasons were really only wet and dry, and there was much less of a sense of annual changes.
Anyway, this year I'm feeling more inspired by the start of a new year and am going to post about it as a result.
Some things for the year 2012
Photography: 2k/52/365
Do we really need more images cataloguing our world and lives, especially those taken by people without any real appreciable knowledge of the art? I'm not sure about that, but it doesn't matter to me too much because it's something I enjoy more and more as time passes.
I was reading Dave Powell's blog post about his 2k experiment and I felt inspired. So this morning, following some discussion on Google Plus, I ventured out to walk two kilometres from my doorstep and take some photos. And I loved it.
I have a new photo backpack which, whilst extremely late for my birthday due to an Amazon mess up, was perfectly timed for today. It's extremely comfortable to walk with.
Whether I will keep up something like my new 365project.org page or not is unknown, but the 2K idea is lovely and I'm really going to try to stick to that (rain or shine?).
Blogging
It's all too easy to slip into the habit of handing over your thoughts to a third-party service like Facebook, Twitter, or Google+. They're useful services and certainly make things easy. However, at the same time they're not mine. This year I'm hoping to give more to my life journal here on this blog. I can always share it out to my third-party service of choice (if you weren't sure, it's Google+ for the time being).
Work
A more effective work-life balance. Spending my work time working, and making sure I distinguish the personal time from the work time, even if it so happens that I'm sitting in front of a screen for both. It's all too easy to let it all blur into one.
This isn't an easy task, as I'm all too aware, but I'll push for it all the same.
Other things relating to work mainly include pushing my coding abilities a bit more and improving the efficiency of my work-flow.
Music
A minimum of one original Ebauche release this year and a live set on Rathlin island in August of which I am wholly proud.
That is all.
Life
Spend more time communicating with the people I care for. Even if it just means dropping a short email or text message every once in a while to say hello.
I care for a lot of people. I feel a lot of love and trust towards the many fantastic people I've met over the years. Sometimes it's hard to keep up with and I end up, strangely, becoming more of a hermit. I'll try. But please, never hesitate to drop me a line and say hello. I'll be delighted to hear from you 🙂
Money
It's one of those things that is hard to avoid. This year I'm going to wholly focus on eliminating my credit card debt.
There we have it
A little memorandum of my intents. Someone remind me to look back at this in 365 days time!
Other Spectacular Shows!