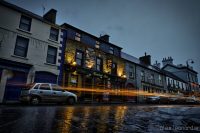 Yet another "I've been very busy and failing to update my blog" post.. I was doing well at the start of the year and then hit a speed-bump..
Busy with work
This is the primary reason – I've been run off my feet with work. We've had a bunch of sub-contracting work come in which has been great as it tends to be less complicated than a full client job.
I've also been doing some consultation work for Cricket Ireland. Whilst I'd love to be doing a full web development job for them I felt it better to not tender for the job as it would have precluded my younger brother, who works there as marketing director, from being involved in the decision process. The job went to Eye Killer who definitely had the strongest overall pitch. The new website should be launching soon and I think it will be very cool.
I've also been learning a whole chunk of new things in preparation for a few upcoming jobs – stretching my brain has felt good.
Composing again
I'm thrilled to say that music production is coming along very well and I've got the bare bones of an album worked out. I still have a couple of tracks to work out but hopefully I'm not too far off fine-tuning and then getting stuck into a full mixdown and mastering process.
Not taking so many photographs
This isn't such a high point. I realised that I was a month behind my photo processing and shouldn't continue to take daily photographs whilst I'm stuck with such a backlog. I'll try to find some spare time to get through that backlog so I can get out daily again. I'm hoping the next item will help with that.
New screens!
Delighted that, following the death of my old Samsung 24″ screens, I've picked up two beautiful 23″ Asus IPS panels. So far the colour is excellent and I'm really looking forward to tackling the previous point on the new sumptuous beauties.
Happy and settled in Ballycastle
Overall very content here in Ballycastle. See a few old Force 10 heads every once in a while and loving the wild north coastline!
Other Spectacular Shows!