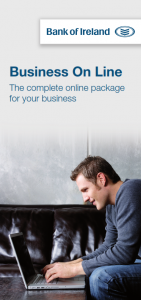 I've been a business customer of Bank of Ireland ever since myself and Donn set up PixelApes – so that's about 7 years now. We've been using their horrendous "Business On-Line" feature ever since then and it's continued to present the same poor experience from then up to the present day.
We pay €15 a month, or €180 a year, to use this antiquated system which is convoluted, not user friendly, and only works correctly in Internet Explorer. They've been assuring us that a new system will be "rolling out soon" on and off for the past 4 years.
We're currently investigating other options that might yield slightly lower yearly charges and a better system to boot.
Woeful.
The hilarious thing is that all of their literature, demos and tutorials never dare to show this antiquated system, they're clearly too ashamed to actually show customers in advance the UI horror they're going to deal with. Instead they stick with meaningless PR shots of happy trendy young customers on their computer smiling. Clearly the man pictured in the brochure to the right is actually watching a cute cat video on YouTube, because if he was using Bank of Ireland's "Business On-Line" system he'd be much more likely to be in tears (or at a minimum, his visage would be beset with a furrowed brow and an ever-darkening grimace).
Other Spectacular Shows!