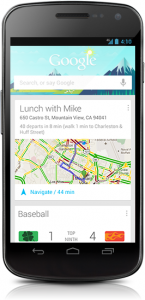 Google recently launched the latest iteration of the mobile operating system. Android 4.1, aka Jelly Bean, looks to be a really nice update. As indicated by the incremental 'point' release number, it's not as major a change as it was from 2.3 to 4.0, but appears to smooth out and apply some nice additions to the OS.
Major Features
You can read a fairly detailed breakdown of the major features over on android.com but here's a quick round up.
Google Now / Search / Voice Search
Google's built in search features have gotten a major overhaul. Offline voice recognition, a system that learns from you over time and presents information to you that could be useful (directions and travel times, sports results, flight details etc).
Butter
Google have worked hard to improve the graphics handling in Android. Touch responsiveness is meant to feel much better
Notifications
Notifications now provide a lot more information and can be acted on directly in the notifications tray (eg snooze alarms, send email, call users, etc)
Camera
The camera app continues to improve, with better controls after you take a photo.
Keyboard
It looks like Google are taking the lead from apps like SwiftKey and are now starting to learn the user's typing habits over time in order to suggest words.
Widgets
Have you ever tried to put a widget on your home screen only to get a message saying "not enough space"? Well Jelly Bean automatically looks after that now and resizes things to make room.
There's a lot more minor changes which you can read up on if you want – there's a link below for that.
It sounds like a decent enough update and makes me yearn to own a Nexus branded device to ensure timely updates to my OS. Certainly knowing that updates will roll out straight away make things like the Nexus 7 tablet much more tempting.
Complete Changelog
The Android team have also posted a full Android Jelly Bean changelog which details all the finer points of the new release.
Android 4.1 Related Videos
Project Butter
Demonstrating the smoother graphics experience of Jelly Bean.
Google Now Promo
Other Spectacular Shows!