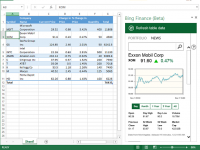 What is wrong with Microsoft and their ability to name products – why are they such a horrid mouthful.
They've just announced "Bing Apps for Office", although it sounds like it's really "Bing Apps for Office 365 Home Premium", and probably if we're being official it'll have "Microsoft" in front of it.
It's a series of add-ons for Microsoft Office 365 (I think), that enable embedding of data from Bing. These apps each have a super catchy name.
Bing Maps for Office

Bing Finance (Beta) for Office
Bing News Search for Office
Bing Dictionary (English) for Office
Bing Image Search for Office
Clearly Microsoft are desperate to push their equally awfully named 'Bing' upon as many people as possible. That is until they decide to do an about-face and change product name again.
Should it really be called "Microsoft Office 365 Home Premium"?
None of it makes any sense
Do I sign in to Windows 8 with my "Microsoft Account", probably not. I sign in with [email protected] which is a hotmail or outlook account. Perhaps I can sign in with [email protected] now. One way or another you're probably going to pass through login.live.com no matter what account you have.
What is the product name for it? It's definitely not something simple like "Microsoft account", or "Windows account". No, it's either my Windows Live ID, or maybe it's Microsoft Wallet, or Microsoft Passport, or .NET Passport, or even Microsoft Passport Network.
Other terrible names
Here's a list of some of their awe-inspiring catchy names.
Windows Live Essentials 2012
Local Scout on Windows Phone
Microsoft Surface with Windows RT
Microsoft Office 365 Home Premium
Microsoft Natural Wireless Laser Mouse 6000
Microsoft Windows Vista Ultimate UPGRADE Limited Numbered Signature Edition
Microsoft Office Live Communications Server Public Instant Messaging Connectivity
Windows Server users, IT folks, and developers get wonderful product names like:
And as far as I can see, this is their longest ever product name. Check yourself before you wreck yourself. 165 characters of product name nirvana.
Microsoft Office Communications Server Public Instant Messaging Connectivity with Yahoo Instant Messaging service and America Online (AOL) Instant Messaging Service
An oldie, but a goodie
What would happen if Microsoft applied their packaging and branding skills to the iPod.
Other Spectacular Shows!