One of the things I love about Phnom Penh is the ease with which one can get out there and get involved in doing things.
Whatever you're into there's room to start or join in activities, events, and general fun.
Painting
If you've ever had a passing interest in painting or love to paint but would like to improve your skills or find new tricks, my better-half Adrianna is teaching two painting workshops this weekend.
The morning workshop – 'Still Life Acrylic Painting' will explore the creation of texture on the canvas, defining images, finding expression in your work, the use of color, light and shadows as well as conveying feeling and emotion.

The afternoon workshop – 'Abstract Oil Painting' will encourage participants to expand their imagination, look at the construction of images and as was the case in the morning workshop discuss the use of various colors, lighting and shadows.
Find out more information on the Phnom Penh Community College website.
You can also visit Adrianna's website to see more of her fascinating and beautiful paintings.
Photo Walking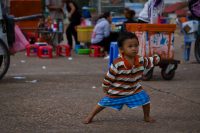 After a few months here I, thankfully, got poked into action by fellow photowalker NaEun Park, and we set about re-commencing monthly photo walks in Phnom Penh.
This weekend we're taking to Olympic Stadium – an excellent chance to capture the place before a planned renovation goes ahead.
We'll be meeting in the lobby of City Mall around 4pm and then heading off around Olympic Stadium to capture photos, meander, chat, and have a good time 🙂
Looking for other cultural distractions in Phnom Penh?
The great news is that there's so much going on and there's a new cultural weekly guide called Kumnooh.
Check out this week's events, or subscribe to their weekly newsletter.
If you want to stay in touch with the music events going on every week, check out lengpleng.com. They also have a weekly newsletter.
Other Spectacular Shows!