It's seems Bank of Ireland aren't content with offering an utterly atrocious online banking system for their business customers, but now they're also committing the cardinal sin of emailing hundreds of their customers with every customer name/email in the "To" field of the email…
Check out the screenshot below. There's so many email addresses that I couldn't get them to fit in this full-screen view (and I've censored the email addresses, because I have a vague grasp of the concept of privacy).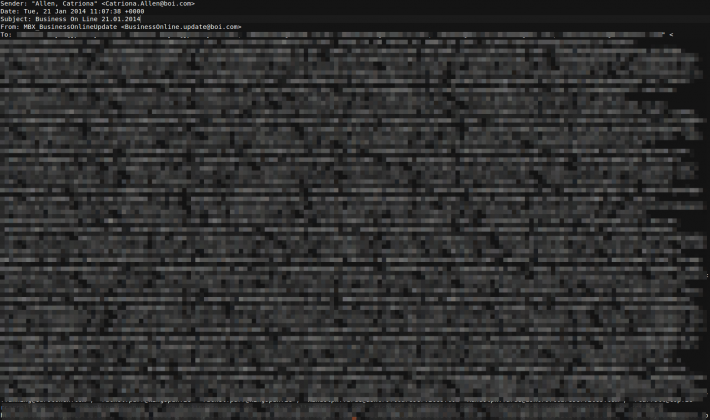 I've sent them an email to ask whether they have anything to say about it which you can read for your amusement below.
Hi there,

Whilst we appreciate being on a notification list that apologises for the frankly unforgiveable shortcomings of the paid BOI Business Online service, we do absolutely not appreciate our email address being revealed to hundreds of Bank of Ireland Business Online customers.

Once again I must ask why are we paying EUR15 every month for a system that doesn't work – as I have to use a virtual machine to access business online (I run Ubuntu), I consider the system to be fundamentally broken. So now not only are we paying for something fundamentally broken, but the business online team manages to reveal the email addresses of hundreds of their customers in what must be considered some sort of privacy breach?

I look forward to hearing your response and I will be updating my personal blog readers on the situation.

Before I go, now that SEPA has happened – any update on a timeline for when the antiquated 14 year old business online service might be updated to work on any modern browsers, or are you just going to send on a vaguely worded 'in the next year' type of answer which is exactly what BOI have been telling us since we started complaining about it 7 years ago?

Kind regards,
Alex
Yet another glorious moment in the appalling state of affairs with the Bank of Ireland Business Online team.
Oh, and what was the email that they sent I hear you ask. It was a technical advisory explaining that to authorise payments in the "Payments Warehouse" required customers to delete their browsing history in Internet Explorer. Nice work there..
If you are experiencing issues when trying to view and authorise payments in the Payments Warehouse on Business On Line please follow the steps below:

open internet explorer
select tools
internet options
under browsing history click the delete button – another window will pop up
untick Preserve Favourites Website Data
click delete
click apply
click okay
Make sure to restart IE
log back onto BOL If you require any further assistance please contact us on 1850 264 265.

Apologies for any inconvenience caused
Certainly indicative of a high quality service I'm glad I'm paying EUR15 a month for..
If you're thinking of opening a business bank account in Ireland, don't use Bank of Ireland!
Update: 09:00 23rd January 2014
Bank of Ireland have issued an apology by email.
Dear Customers,

We would like to apologise for the email issued yesterday at 11.08am titled: Business On Line 21.01.201.

Please accept our sincere apologies for making our customer names and email addresses visible to all on the distribution list.

Can you please delete the original email and we apologise once again for any inconvenience caused to you.

The detail that was issued can be located below and is valid as of 11.08am yesterday morning.

Regards,
Mary Cully
Once again, thanks for the great service Bank of Ireland..
Update: 11:00 24th January 2014
So I got a phone call from a Bank of Ireland representative yesterday evening. She first apologised for the mistake with the emails and said that additional training will be done to ensure that a mistake like this doesn't happen again.
She then explained that Bank of Ireland are absolutely committed to improving the Business Online server, and that Bank of Ireland were eager to address those concerns in any way possible, unless
I wanted a timeline for service improvements (the improvements they've been promising for at least 7 years), or
I ask for Bank of Ireland to waive the EUR15 per month service fee for a service which has major flaws.
So that was an utterly pointless call which did nothing other than tick a checkbox that the PR protocol has been followed. Lame.
Other Spectacular Shows!