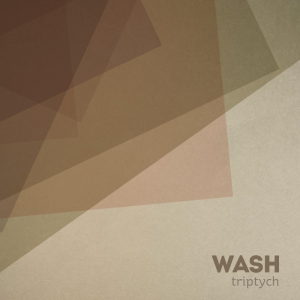 Last year I had the good fortune to be involved in a great musical collaboration with Warren Daly, Hal Fx, and Scott Bywater. The project took on a life of its own and suddenly we were called WASH, and were creating a full live album along with a booklet containing prints of paintings created for the project by artists Dina Chhan and Adrianna Snochowska.
The album, released last year, was called Triptych, and blended spoken word, ambient electronics, and sublime guitar. It was always a difficult concept to explain to people in terms of genres or musical style. Ultimately saying to people "you just have to hear it to understand", but now Hypnagogue, a well respected reviewer of ambient electronic music, has found a way to put words to screen to describe the experience.
Understandably the reviewer was initially hesitant where it comes to performance poetry, something I know myself can be a mixed bag.
Not being a huge fan of performance poetry, I headed into Tryptich, the release from the sound collaborative called WASH, with a bit of hesitation. Unwarranted.
However, the thing we worked hardest at stands out.
The blend of music and words is seamless. Neither interrupts the other; the symbiosis shows perfect harmony.
He finishes with humbling praise for our work, which makes me very proud of our accomplishment.
Having delved into it over and over, its beauty–both lyrical and musical–grew on me and the release revealed itself as a thor0ughly engaging, extremely intelligent suite of pieces that exude confidence and truly pull the listener in. You need to give this a try.
Head over to John Shanahan's site to read the full Hypnagogue review.
Preview the album
Make yourself a cup of something, sit back, and hit play. Put on headphones and close your eyes for an enhanced experience!
If you like what you hear, please check out the download link below.
Download the album on Bandcamp
The album is $10 with the 18-page full-colour booklet, but you can also choose your price if you just want the digital version (PDF of the booklet included).
Album Booklet









I hope you'll take an opportunity to listen to our little project. Any feedback is welcomed in the comments below.
Other Spectacular Shows!